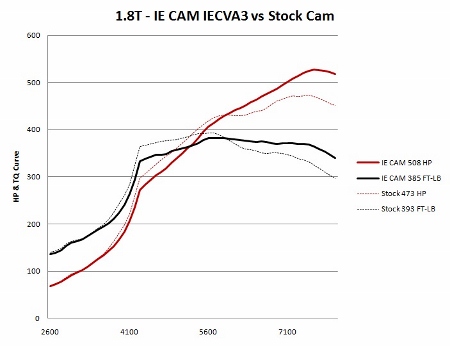 37 peak bhp at 22psi ON AFTERMARKET TURBO AND SUPPORTING MODIFICATION.
Name:
Integrated Engineering 1.8T 20V Street Intake Camshaft

Part Number:
IECVA3

Price: $
414.99

Full Description:
INTEGRATED ENGINEERING 20V STREET INTAKE CAMSHAFT. This camshaft will fit all VAG 20V 4 cylinder engines. This cam is the result of years of frustration with the current market offerings either being too unreliable, or too difficult to install. By eliminating the troublesome internal adjusters, and incorporating OE style timing marks, we have not only made this reliable, but also very simple to install. With those issues solved, we set about an extensive program of dyno testing to optimize this camshaft for the engine setups people actually run. The result is a cam set with less harmful harmonics and less excess lift, allowing safer operation at high speed, and improved power under the curve. This set is intended for turbocharged applications using turbochargers in the 300-500bhp size range, or when an OE idle is required. It was carefully designed for optimum valvetrain harmonics and safe, long life of your components, yet engine dyno testing to yielded gains of up to 37 peak bhp at 22psi. Strong power from 4000 to 7500 rpm 249 degrees advertised .325" Lift

Quantity in Stock:
1

Ground Shipping: $
Free Ground in Lower 48 States Only

Available for
Make
Model
Years
Trims / Engines
Audi
A4
1997, 1998, 1999, 2000, 2001
1.8T
A4 QUATTRO
1997 B5, 1998 B5, 1999 B5, 2000 B5, 2001 B5, 2002 B6, 2003 B6, 2004 B6
1.8T
TT MK1
2000, 2001, 2002, 2003, 2004, 2005, 2006
1.8T (180 HP)
TT QUATTRO MK1
2000, 2001, 2002, 2003, 2004, 2005, 2006
1.8T (180 HP), 1.8T (225 HP)
VW
GOLF JETTA MK4
1999, 2000, 2001, 2002, 2003, 2004, 2005
1.8T
GTI 337/ 20TH / GLI/MK4
2002, 2003, 2004, 2005
1.8T
PASSAT
1998 B5, 1999 B5, 2000 B5, 2001 B5, 2002 B5, 2003 B5, 2004 B5, 2005 B5
1.8T
- HOME
---
---
||| © 2014 Four Season Distribution Inc // fourseasontuning.com |||

1547 W. Struck Ave Suite H, Orange, Ca 92867 |Phone 714-997-5842




Audi® and Volkswagen® are registered trademarks. FST is not affiliated nor implies affiliation with these companies.
Cat Cams, GIAC Chips, Eurospec Sport, Big Valve Heads and much more for Audi and VW.